Shopping bags often serve many functions. Of course, these functions are influenced by the type of shopping bag. After the grocery store, plastic bags are great for doggy cleanup and house waste or even a makeshift lunch bag. Post trade show, paper bags are great for storing stuff in a dusty attic, as gift wrap paper or even as shredding to add to a compost in the back yard. The eco-friendly avenues for reusing paper and plastic shopping bags is endless. From a business perspective however, shopping bags are doing your company logo a disservice as a liner for a kitty pan. How many companies can you think of with instantly recognizable shopping bags? Tiffany & Co., Bloomingdales and Apple have unique shopping bags that most Americans know and love. If you haven't done so yourself, you've surely seen someone proudly reusing bags from their favorite stores in their everyday life.
Shopping bags have a long history: In the 1950's when the cost of paper goods became more affordable, stores started providing shopping bags free to customers. In 1965 a Swiss company created the first plastic shopping bags. By the 1980's these plastic shopping bags were available at grocers and retailers worldwide. Not long after, scientists and researchers began to realize the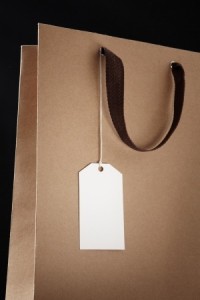 negative impact the shopping bag industry was having on our environment and wildlife. By the dawn of the 21st century, the initiative to curb our appetite for disposable bags began, giving birth to the trend of reusable, eco-friendly shopping bags.
Made from multiple materials including canvas, cotton and hemp, eco-friendly shopping bags work great for the grocery store, clothing retailer, meetings & conventions and for everyday life. Eco-friendly shopping bags come in all shapes and sizes including the traditional grocery store with handle design or as a drawstring backpack. Certain versions are even biodegradable! Some retailers will even give you a discount on your purchase if you bring your tote back and refrain from using their paper or plastic. And, because they aren't designed to be disposed of after their initial use, consumers are finding new ways to use these modern and durable totes in their everyday lives.  So, how does offering an eco-friendly shopping bag benefit your brand? Your logo and marketing message are front and center to your customers and the world every time someone reuses your bag! You're also letting the world know that your brand cares about the environment.
Custom designed reusable shopping bags are an affordable promotional item suited for every type of business or event. Plus, they will never go out of style…or demand!
About the author: William Hall is a seasoned business coach specializing in branding, social media and promotional events. William has spent his career teaching businesses of all sizes how to stand out in the crowd while using marketing dollars most effectively. His clients are continuously thankful for his out-of-the-box ideas that lead to increased revenue, more clicks and a bigger online presence.